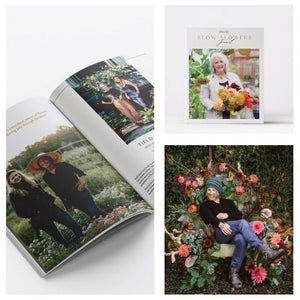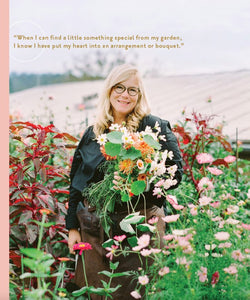 Seattle-based author Debra Prinzing founded the Slow Flowers Movement after the publication of her 2013 book, Slow Flowers: Four Seasons of Locally Grown Bouquets from the Garden, Meadow and Farm, inspiring thousands of gardeners and floral enthusiasts to adopt a seasonal approach to growing and arranging flowers. Now, with her new book, Slow Flowers Journal - Volume One, Prinzing shines a light on the leaders, best practices, inventive floral artistry and creative experiences that are changing the floral marketplace while connecting people with the origin of local and sustainably-grown flowers.
  Slow Flowers Journal is produced in partnership with Florists' Review magazine, which launched its Slow Flowers Journal section in August 2017, with Prinzing as contributing editor. Since its inception, Slow Flowers Journal has been the voice of the Slow Flowers Movement, delivering news, features, profiles, interviews and an abundance of gorgeous photography tailored to its audience – professional florists and floral enthusiasts alike.
  This "best of" book draws from the past two years of the magazine's Slow Flowers Journal content, completely redesigned with fresh graphics, new photography selections and streamlined text, including 25 percent new content. The 128-page, full-color book features the following sections: Slow Flowers Heroes, Florist-Farmer, The Business of Flowers, Botanical Couture, Field to Tabletop, Slow Weddings, Resources, Grower's Spotlight and Made in USA Suppliers. Eighty Slow Flowers members from across the U.S. and Canada are featured in the book's pages, illustrated with more than 150 photographs that tell a visually-compelling story of a lifestyle immersed in flowers.
  "The highlights in this publication show how many in our industry have embraced 'slow' and by doing so helped to foster a new and creative approach to the profession we all love," says Travis Rigby, Wildflower.Media Inc.'s publisher.
Prinzing says her goal with the book is to engage readers and stimulate conversations about the relevance of progressive, sustainably-minded floristry, at the heart of which are domestic and seasonal botanicals.

  "I want Slow Flowers Journal to serve as a handbook for both professionals and floral enthusiasts as they experience every unique bloom, season after season. In these pages, I hope readers will discover and embrace the mission of the Slow Flowers Movement," she says. "It's not just about experiencing the sensory pleasures that an heirloom, artisan-grown and arranged flower provides. It's about individuals motivated by passion, creativity, ethical values and their own aspirations to change the status quo."
Accolades for Slow Flowers Journal - Volume One:
"Leave it to Debra Prinzing to create a bookazine that illustrates the beauty of American-sourced flowers and celebrates the growers and floral designers who have embraced the Slow Flowers Movement. How wonderful to put faces and stories to the people who have championed a locally-grown design practice. And how brilliant to gather so many resources in this beautifully-designed Slow Flowers Journal."
-- Arielle Chezar, Arielle Chezar Design and author of Seasonal Flower Arranging
"Slow Flowers Journal is a testament to Debra Prinzing's dedicated effort to realize a sustainable direction for the future of flower farming and floristry. Her advocacy and leadership has brought the Slow Flowers Movement and community to become a respected global phenomenon."
-- Hitomi Gilliam, AIFD, author, educator and founder of Design358
Book Specs:
Slow Flowers Journal - Volume One
ISBN 978-1-7337826-3-0
$19.95
Soft back, 128 pages
Full color photography throughout
About the Author:
Debra Prinzing is a Seattle-based writer, speaker and leading advocate for American-grown flowers. Through her many Slow Flowers-branded projects, she has convened a national conversation that encourages consumers and professionals alike to make conscious choices about their floral purchases. Debra is the producer of SlowFlowers.com, the weekly "Slow Flowers Podcast" and the American Flowers Week (June 28-July 4) campaign. Debra is a Florists' Review Contributing Editor for which she produces the "Slow Flowers Journal" section. She is author of 11 books, including Slow Flowers and The 50 Mile Bouquet.
About Slow Flowers:
Slow Flowers is an inclusive community dedicated to preserving domestic flower farms and supporting a floral industry that relies on a safe, seasonal and local supply of sustainably-farmed flowers and foliage. Our members are engaged in all facets of the U.S. flower industry. The Slow Flowers Movement began in 2013 with the publication of Debra Prinzing's book, Slow Flowers, and has ignited the imaginations of flower lovers, florists, flower farmers and growers across the U.S. (and around the globe). Learn more at slowflowerssociety.com.