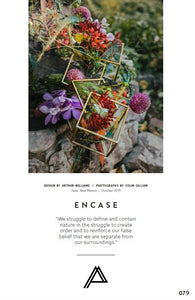 In this inspirational, concept-driven book, two of America's most visionary floral artists (and creative soulmates)—Arthur Williams, AIFD, CFD, EMC, CPF and Stacey Bal, AIFD, CFD, EMC—collaborate to visually interpret 21 thought-provoking words that are close to their hearts and souls, with "impermanent" materials (fresh botanicals) as their primary medium.
Arthur and Stacey each create mind-blowing individual pieces (as anyone who knows them might expect!) to define the 21 respective words, and there are stunning collaborative works, as well. Detail shots and multiple perspectives of each composition are featured alongside the main photos, and the word concepts are defined by the duo with phrases, statements and quotes, as well as commentary on how personal experiences influence their definitions of the words.
Although Arthur's and Stacey's minds and creative voices are often one, on display here are examples of how their varying perspectives range from similarity to opposition, from austerity to exuberance, from positive to negative.
Through the pages of this contemporary but timeless volume, other floral designers will be inspired to approach each word with their own visions. This collectible edition must be in the inspiration arsenal of every serious arranger of impermanent materials.