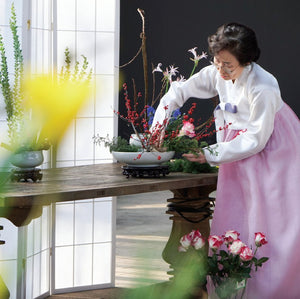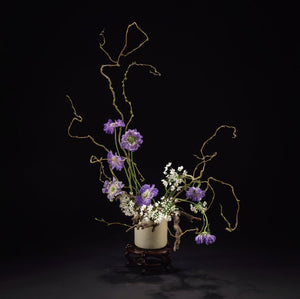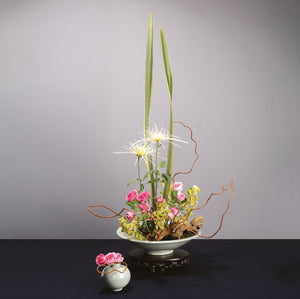 In Korea, traditional flower arranging—Cocoji—is reflective of the Korean people's nature and artistic aesthetic. It's an important element of the country's unique culture. Flower arranging was once a common hobby of Korean women; however, during the 50 years of invasion, occupation and war that occurred in that country in the first half of the 20th century, Cocoji was buried and almost forgotten. Today, regrettably, it is often practiced only by professional groups.
Through the 32 intricate yet sometimes seemingly simple floral designs that are gracefully presented on these pages of this quietly beautiful book, you will learn the art of traditional Korean flower arranging, which has been kept alive by authors Deokwon Lee and Heungkyoung Oh—and their master mentor, the late Im Wha Kong. You also will discover the roots and history of this more-than-2,000-year-old art form, which commonly incorporates the use of three branches to represent the Chun-Ji-In philosophy that the heavens, the Earth and the people are all governed by a great singular power.
Cocoji is uniquely different from Japanese Ikebana and other Asian flower-arranging disciplines, and practicing its tenets will broaden your floral design perspectives and influence the evolution of your own distinctive style. This is more than just a pretty-picture book; it is a surprisingly affordable study guide to the art of Cocoji.